Facts & Figures
Government institution with

entrance area
shop
café
study rooms
permanent exhibitions
loan
workshop/lab
3100 m2
architecture in collaboration with diederendirrix architecten
Designing the new interior of the Dutch National Archives, Stage 2


After designing the new interior of the reading rooms and the public areas of the Dutch National Archives back in 2013, Van Eijk & Van der Lubbe were recently asked to design the new entrance area. Open, inviting and lively – from archiving to presenting and from storing to sharing information. The spatial interventions of the design have been achieved in close cooperation with diederendirrix architects.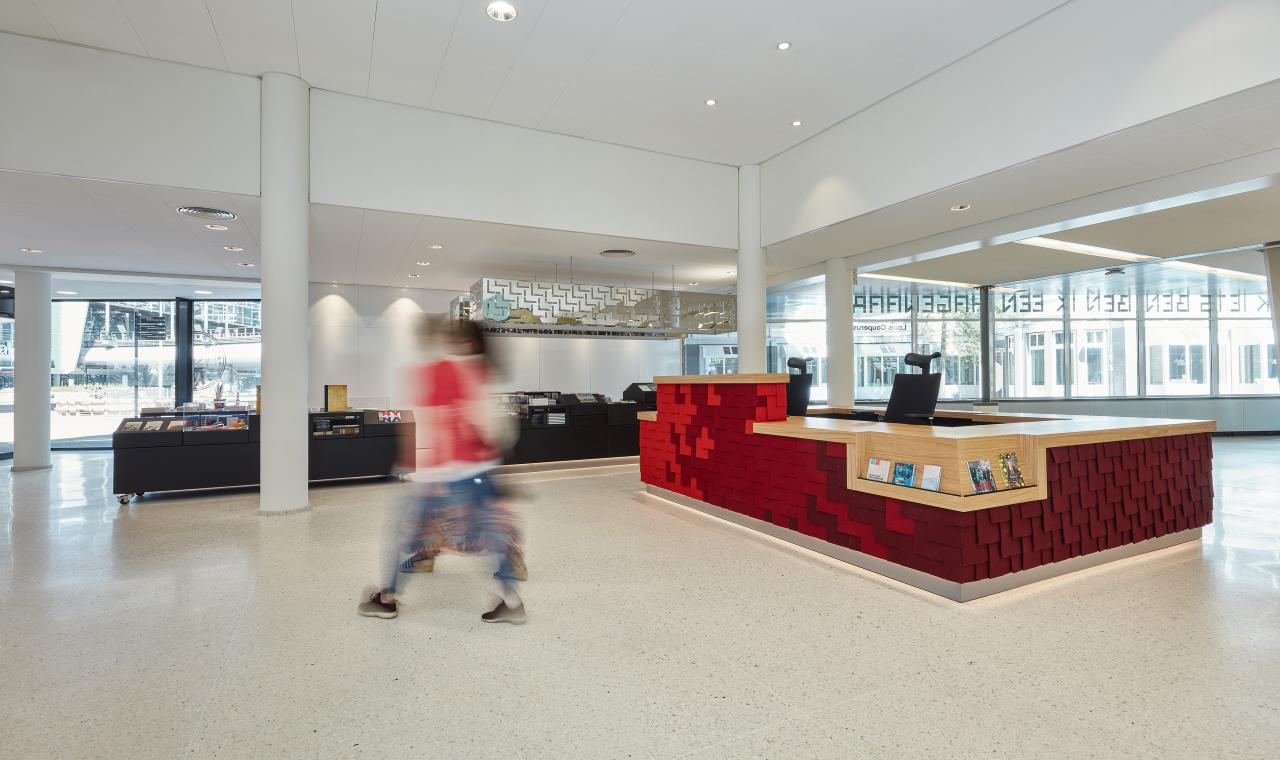 Photos: Jeroen van der Wielen
The Dutch National Archives is the place where the history of the Netherlands is recorded and stored. The archive contains as many as 137 kms of archive material, 15 million photographs, 300,000 maps and 800 terabyte of digital files. This material provides a detailed overview of more than a thousand years of Dutch history. This valuable collection is accessible to everyone.
From introvert to inviting
By moving the façade forwards, the reception area has now been opened up towards the square. The entrance has become more clearly visible, more light is shed on the public areas and the Café now connects the interior with the exterior. When visitors arrive in the new reception area, they can go to the reading rooms, visit the indoor courtyard with mini presentations about the National Archives and they can also visit the exhibition area. The interiors of these three areas were designed by Van Eijk & Van der Lubbe in 2013.
Introductions
The reception area of the Dutch National Archives is also the entrance to other organisations in the same building. For example, visitors to the Dutch Royal Library and the Dutch Council for Culture also arrive here. This is why visitors will see a large sign on the wall on which all the organisations in the building introduce themselves. There is an employee at the red reception desk, like a heart in the white area, to answer any questions.
On display
Next to the red reception desk, an area for a shop has been created. The shop sells a range of products linked to events at the Dutch National Archives. Even though the displays are in a semi-public space, they can be closed off by lowering the overhanging light covers.
Floor plans

floor pattern - first floor
To work, to relax and to meet up
The Café has been integrated in the entrance area in such a way that visitors can work or relax here. The tiles are classic Makummer whites and the designs are from great Dutch designers providing an overview of the Dutch history of design. Furniture classics by Gerrit Rietveld and Martin Visser are placed alongside furniture by contemporary designers such as Arjan Brekveld and Danny Fang.
Workstations and meeting areas have landed in the lobbies on the first floor. Inspired by ancient track charts of the sea, the floor shows a network of lines and connections. Historic material such as Dutch oak wood and wool felt from sheep in the Green Heart (het Groene Hart) of Holland give this newly designed area its own unique look and feel.
Client: Nationaal Archief Den Haag
Architect (1979): Sjoerd Schamhart
Architectural interventions: in collaboration with diederendirrix architecten
Year: 2018
Concept interactive installations: in collaboration with Erik Nap
Production: Formabouw, Bazelmans AV, Van der Plas Interior
Measurements: 3100 m2
Project number: 11.008-NA; 16.001-NA2
Products available for sale via USUALS: Tea towels, Handles