Facts & Figures
Commissioned by Textiel Museum Tilburg
First layer in 2003
Second layer in 2009
Third layer is in process
Fourth layer in 2024
Prints of 2003 & 2009 & 2020
Six damask textiles for the Textile Museum
Commissioned by the TextielMuseum in Tilburg, The Netherlands, Van Eijk & Van der Lubbe designed the series Prints of 2003. Six cotton damask textiles depicting famous Delftware tile figures. Closer inspection reveals that modern details have been added to the traditional motifs.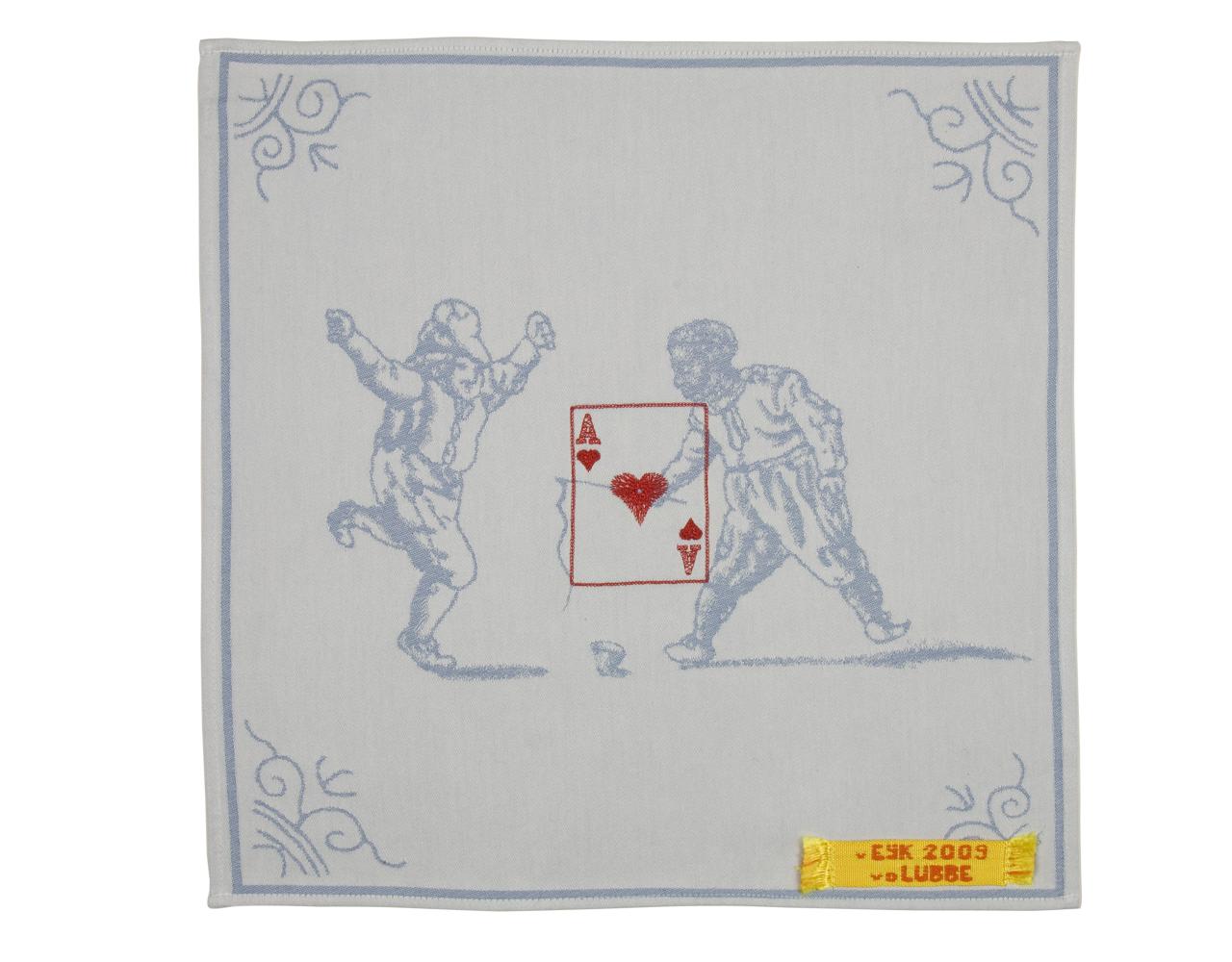 The first series designed in 2003: the little boy was given a pistol, the man with the hat received roller skates and one of the children changed race. These images were woven by machine in the TextileLab in the museum.
The tablecloth also shows historical images with an update: the map and outline of the city form the central image. Within this image old and new elements are combined. The historic center of the city is filled with crane equipment and high-rise buildings, representative of the ambition to build within cities in 2003. Old ships carry a European flag and windmills determine the skyline of the city.
2009
In 2009, the textiles were updated with themes such as games, drugs and sustainability appearing in a second layer with embroidery, laser-cutting or foil transfers. The kid with the pistol now also had a Wii-game console and next to the Erasmusbrug the newest skyscraper was added to the Rotterdam skyline and temporary symbols, which may be barely legible in twenty years.


2020
The 3rd revision of the collection is now being made. Large multinationals are currently dominating our world. Apple, Tesla, Nike. Almost everyone is familiar with these mega-brands. The Big Boys hijack our world and the individual becomes invisible in the shadow of these giants.
The third layer shows the well-known logos of these multinationals. But the perfection of the meticulously designed logos is lacking. They are embroidered. With a cross stitch, by hand. Nothing mechanical about it. By people with a distance to the labour market. People who spend hours, days, months on one logo. Time doesn't matter and efficiency doesn't matter either.
The ultimate product of this design is not the physical end result, it's the making process and creating something with pride. Logos of anonymous multinationals are embroidered manually by individuals with a name. Marie José, Moniek and Suzan. It is a time-consuming task for these people. They probably work on it for one or two years. It is part of the design to give a time commitment to these people where they proudly work on a collection piece for a Dutch museum.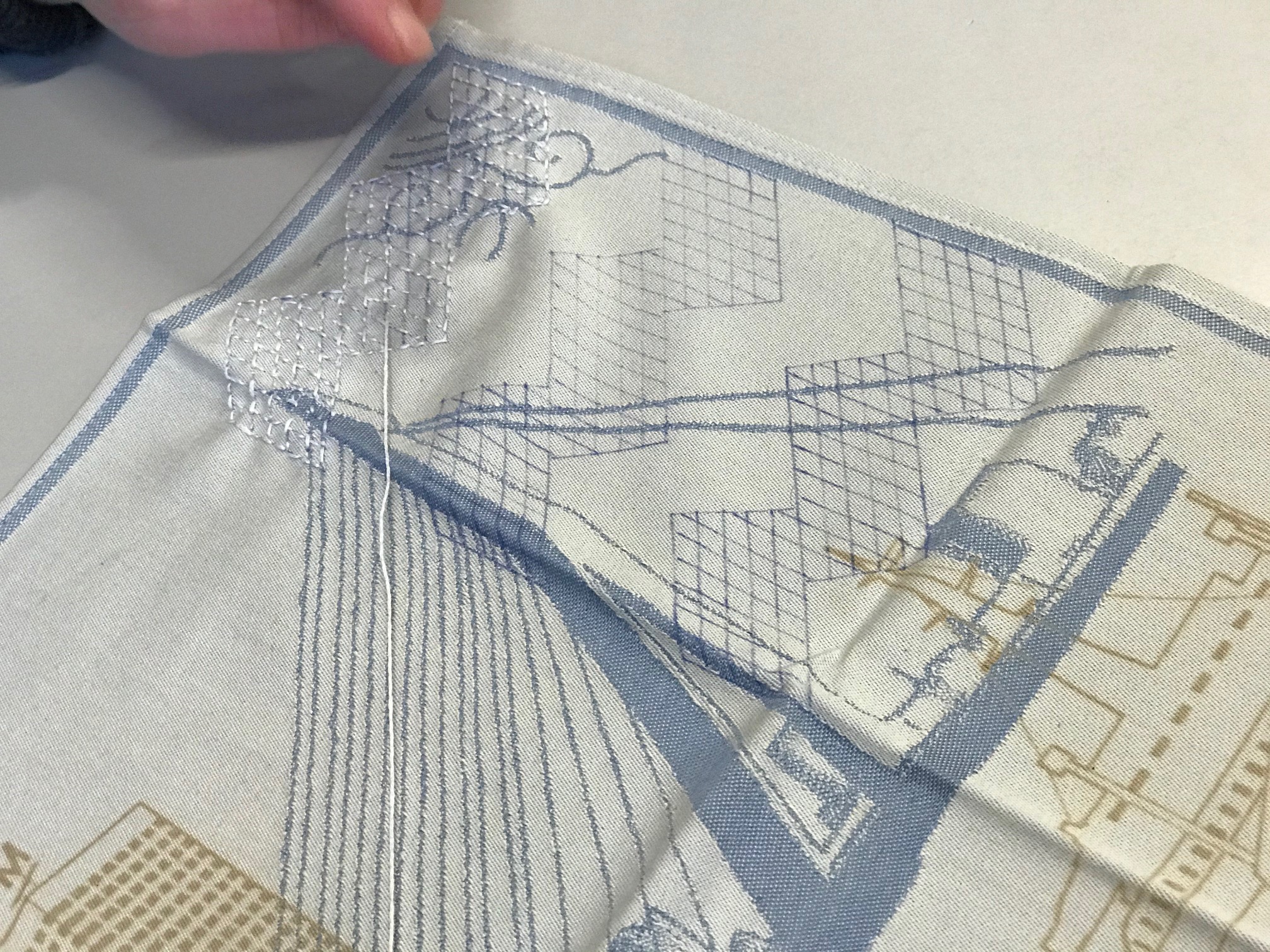 2024
A fourth revision has already been ordered. This will take place in 2024.


---
Client: Textile Museum
Year: 2003, 2009, 2020
Material: Cotton
Measurements: 28 x 28 cm napkins, 140 x 270 cm tablecloth
Production: Textile Museum
Project number: 03.018-024, 09.005-011
Prints of 2003 are on sale via USUALS