Facts & Figures
Office interior
286 work stations
Activity-based working
Canteen, showroom
8000 m2
450 employees
Woonbedrijf: Taking everything into account

The new head office of the Woonbedrijf housing corporation unites what used to be four branches beneath a single roof. We took on the complete design of the interior, approaching the building first and foremost as a space where people should be able to spend their working day in comfort. In addition, we designed it so that tenants feel at home here, too – leaving nobody to feel excluded.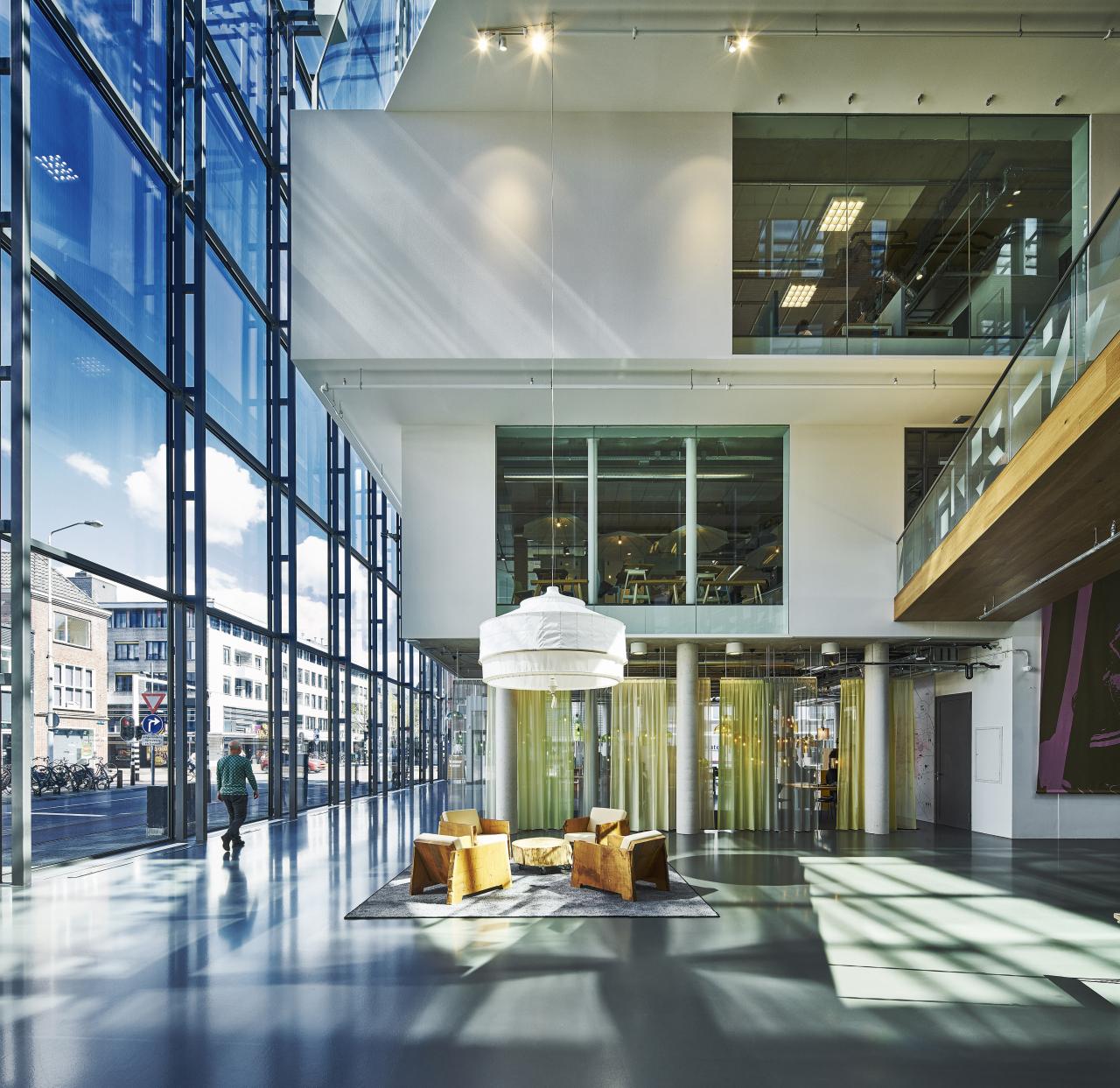 Woonbedrijf (ground floor) | Photo: Rene van der Hulst
Flexible Working
As the organization starts using the new building, the entire staff at Woonbedrijf will take up flexible working, which means employees will no longer have their own work stations. To realise this, and to make it comfortable for them, we took stock of all the different functions the building combines and studied things like how intensively the spaces are used. Taking architect Bert Spierings' floor plans as our starting point, we came to design an interior that is suited to every conceivable activity and takes into account the widest possible range of people and preferences.
Six Themes
Everyone has their own opinion on what an office should be like. To express the diversity, the organisation's identity is expressed through six themes, which are all reflected in the building's interior: local history, recycling, materialisation, freedom, the outdoors and tradition. The history of Eindhoven is honoured through the images of both historic and contemporary city districts. Scattered around the building are subtle references to the local football team PSV Eindhoven and a mural by Jan Rothuizen.
Sustainability
Woonbedrijf is a modern organisation that looks towards the future. Social responsibility and sustainability form an integral part of the interior design, which is reflected in elements such as the recycled phone box, 280 re-upholstered chairs, and dozens of other items of furniture from the former branches. The use of materials also ties in with these ideas: the building incorporates a good number of re-used doors and frames, as well as recycled textiles.
Eye-catcher
For many decades, the site of the new building was the location of the local newspaper Eindhovens Dagblad. A history that is reflected in the interior of this L-shaped building in a number of ways and places, including the reception desk, which has been clad in a wood veneer made from old newspapers (NewspaperWood).
A real eye-catcher is the 19-meter tall double skin façade, which not only symbolizes transparency, but also literally facilitates it. The glass façade offers anyone walking past the building a view of the atrium with the stacked office spaces inside, linked by a series of footbridges. More than 400 staff members work here every day to serve their tenants' interests.
Showcasing Others
Users and visitors effortlessly find their way thanks to a colour coded navigation system. Different colours lead to the best place for a creative brainstorm session, a personal consultation, or activities that demand high levels of concentration. In choosing interior objects, furniture and decoration, we have chosen as much work by young designers from the region as we could. The building has thus become home to items like Lamp & Socket by Lotte Douwes, Replex by Oormerk and Tentlamp by Lindeman & Scheublin.